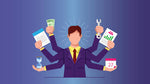 Definition:  "They are organized, passionate and goal-oriented who understand what projects have in common, and their strategic role in how organizations succeed, learn and change." - Project management institute
Being a project manager can be a very challenging yet rewarding job. You might or might not know what a project manager does but they do a variety of tasks. Most people think that project managers only focus on staying on budget and completing on time but, its more than just that. They must be excellent Planners, communicators, analytical, being able to use effective  project management tools and skills.  
Project manager are found in industries such as tech companies and construction etc. They can be employees or sometimes even contractors They are usually assigned a project and with their skills they must manage the lifespan of the project.  They big skill they develop is trust and communication among all of a project's stakeholders involved in the project. 
If you are interested in a career in project management please visit: